Pasi Jokinen, OOH Sales Manager at Paulig, fell in love with cooking already as a little boy. Over the decades, the function of food in people's lives has changed drastically. Food used to be a source of energy but now, more than anything, it brings pleasure and content to life. "Food has always been my thing – it's great working with it at Paulig and helping people eat food that tastes better."
"Porridge!" shouts Pasi Jokinen, OOH Sales Manager at Paulig. He has just been asked to mention the first thing that comes to mind about Finnish food culture. According to him, porridge is a very "Finnish thing". For the poor Finnish people, food meant energy more than anything else for a long time. There was plenty of grain available and it was easy to store.
Finnish food culture includes influences from the East and West.
"As our eastern neighbours, Finns have also pickled cabbages and root vegetables, fermented and salted food. Traditionally, spices haven't been used much – except for salt that has made up for the lack of seasoning," says Pasi.
Dishes from the western neighbour Sweden include janssoninkiusaus, a potato bake with anchovies, meatballs, raw pickled salmon and herrings. However, Finns do have traditional delicacies of their own, too, such as mämmi, a traditional Easter dessert made of rye, hulled barley porridge, nyrkkirieska, a type of flatbread made of barley, and sautéed reindeer. Everything edible in the forests, such as berries, mushrooms, game and roots, have traditionally been important in Finnish food culture.
During the Swedish and Russian reigns, there was only a small nobility in Finland that was influenced by Central Europe and imported expensive ingredients to Finland. As a result, the effects on the common people were few and far between.
All in all, Finnish food culture is very young.
"In the 1940s, we were still struggling to feed everyone. On the other hand, now we have plenty of everything. People adopt new things much more easily. As our food culture is so young, it doesn't restrict us. It's not a huge mistake if you breach the etiquette."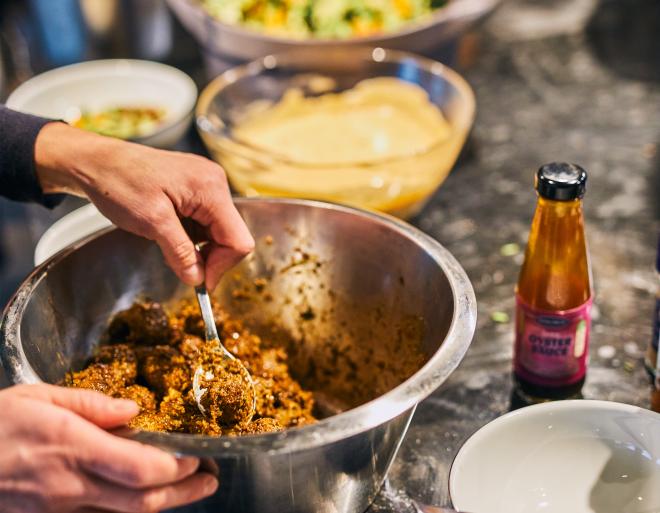 Food brings content to life
Pasi fell in love with cooking when he was only a small child. His mother encouraged him to cook.
"Mother taught my brother and me the tricks of the trade even though boys weren't generally raised to cook in the 70s," says Pasi.
Food has remained a passion of Pasi's for decades. It's easy for him to understand why people are so interested in food nowadays.
"People have always been interested in food but for completely different reasons in different times. Food used to keep people alive. Now, food is not only energy but also something that brings content and pleasure to life. In addition, many social aspects are related to food, such as the environment and sustainable development. People are nowadays much more aware of what they eat. We have gained many new flavours from around the world, we're interested in everything new. I simply cannot find one reason why people wouldn't be interested in food," says Pasi, smiling.
Honest, generous ingredients and seasonality appeal to him in Finnish food culture.
"In summer, we have almost everything on offer and in winter, next to nothing, except for imports. A recollection of our old culture is that we still know how to preserve the summer treats. I think that is cool. I like the simplicity of Finnish food culture – proper ingredients and clean flavours."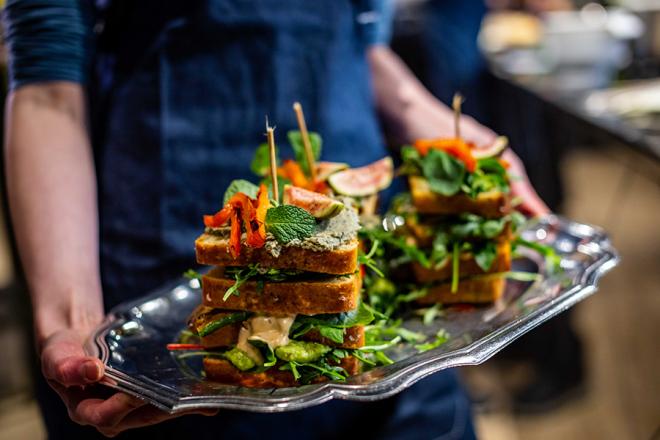 Sliced beef tongue and French bread – my most important flavour memory
When Pasi reminisces the most important food memory of his life, we dive into his childhood and the year 1978. Back then, Pasi was seven years old and together with his father in the Helsinki Ice Hall watching the European Junior Ice Hockey Championships. Finland was playing against the Soviet Union. Finland won the game in overtime, 6–5. The decisive goal was shot by a young top talent called Jari Kurri.
Back then, meat pies and sausages were on sale in the ice halls but it was customary to bring your own snacks. Pasi and his father had packed hot chocolate and French bread topped with homemade sliced beef tongue and grated horseradish.
"This is still a very strong flavour memory for me. I remember the situation so vividly. Flavour memories are very strong and help us return to past events. We talk about flavour memories a lot with our customers, too. Flavours bring back memories."
When talking about culinary trends, Pasi likes to use the word "food adventure".  Flavours of the new world, communality, experiences, spices and seasoning are all related to that, and all close to Pasi's heart. He is interested in experiences, which is also reflected in his work.
"We are often asked how you could make food taste better. This is a brilliant opportunity for Paulig, and I think food adventure is a great way of describing it. Nowadays, you don't have to travel far to experience rich, surprising worlds of flavour – it's enough if you are interested in new things."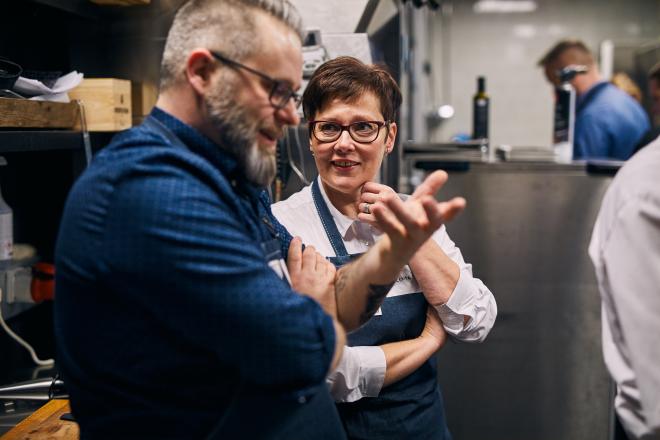 Paulig helps people eat tasty food
And according to Pasi, what makes his work so meaningful?
"Reaching objectives together with customers brings a wonderful feeling of success. It's fantastic to create additional value for the customer and help them succeed even better. In addition, food has always been my thing – I love working with it. Paulig has exceptional products and brands. I get to be an explorer of tastes and flavours, and my work makes people eat food that tastes better. Is there anything more I could ask for?"
One of Pasi's favourite recipes, especially in summer, is Jamaican jerk chicken with adobo sauce. He pairs it with new potatoes.
"The chicken is seasoned with Jamaican jerk and brushed with oil. After this, leave it to season for an hour and barbecue on a charcoal grill. Santa Maria's selection features a ready Caribbean-style adobo sauce. The potatoes are cooked until almost ready, seasoned with a mixture of basil, tomato and oil and barbecued on a gridiron."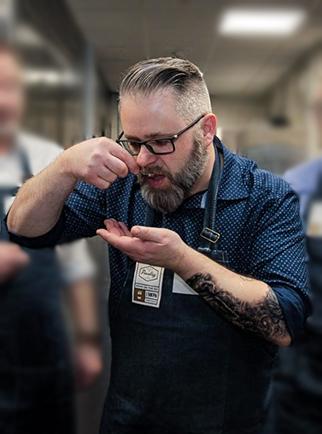 Pasi Jokinen
Occupation: OOH Sales Manager at Paulig
Career: A graduate of the Porvoo culinary school, Pasi has worked in his current job as an OOH Sales Manager since June 2019. Before, he worked as a Sales Manager of Paulig's Santa Maria brand's Foodservice. During his career, he has worked in several restaurants as a cook and in different sales and marketing roles in the food industry.
Hobbies: "We have a coton de tuléar puppy that will soon be one year old.  I also have a 1968 VW Beetle that I tinker with and drive around. And then there's food that is both work and a hobby for me."
What do you take with you from Finland as a souvenir when you go abroad? "Rye bread and salty liquorice – never mämmi, for instance."
Read also:
More spice, more colour!
Traditional recipes are in fashion
Immigration transforms the worlds of flavours
From Thai food to a taco revolution
A whole lotta potatoes!
10.10.2019