Paulig's Senior Key Account Manager Edwin Gielen moved from his home country the Netherlands to Estonia 28 years ago. He has grown to love Estonian locally produced food. Despite that, he would take Dutch cheese and fresh bread with him to a desert island.
It was the early 1990s when Dutch Edwin Gielen was having Christmas dinner with his Estonian girlfriend at her house. A traditional Estonian Christmas delicacy, blood sausage, was carried to the table. First, Edwin was a little shocked.
"Blood sausage is usually served with cranberry sauce, crispy bacon and potatoes. It sounds like a strange combination but it's a perfect match. All Estonians eat this during Christmas."
The Dutchman has lived in Estonia already for 28 years and nowadays he enjoys Estonian food. The first thing he fell in love with in Estonian cuisine was home-grown vegetables and home cooking as well as sour cream. In fact, Estonian and Dutch cuisines have many similarities as both are primarily founded on German cuisine: plenty of potatoes in different forms and meat.
"In the Netherlands, potato is used in all kinds of forms. Families with children love little snacks, such as frikandels and croquettes."
In Estonia, people use plenty of home-grown vegetables in the summer, whereas the vegetable selection in the Netherlands is much more varied in the winter.
"When I moved to Estonia in the early 1990s, food consisted mostly of potatoes and pork or chicken as well as heaps of sour cream. Cabbage was the most used vegetable. In the past 20 years, the selection has grown larger and the use of vegetables has massively increased. In addition, eating fish is nowadays popular in Estonia," describes Edwin.
Dutch families eat together every day
From Dutch cuisine, Edwin misses sandwiches for lunch, traditional stamppot meals that are enjoyed in the wintertime and home-cooked French fries.
"For lunch, the Dutch favour classic sandwiches, whereas Estonians usually have a warm meal for lunch."
Edwin also praises Dutch desserts called "toetje" in his home country. According to him, the Dutch eat plenty of thick and rich yogurt with different sweet toppings.
In Estonia, he most enjoys home-cooked soups in winter. In summer, he loves to buy fresh ingredients from local marketplaces and cook them on a barbecue in the evening.
Edwin says that the Dutch think it's very important to enjoy a meal with the entire family every day.
"In Estonia, people are often so busy on weekdays that they don't have time to eat together. In the Netherlands, dinner is also eaten later."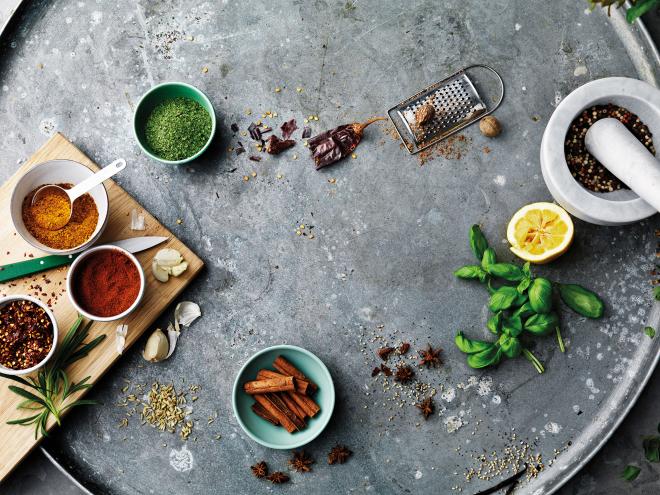 Paulig offers different taste and cultural experiences
Cuisines change as people travel more than before. New cuisines come close to home and people continuously take new products to use.
"People want to eat out more and try out new flavours. Paulig, too, wants to respond to these needs."
For instance, Santa Maria's spices are used daily in Estonian kitchens. They are planned for everyday cooking, and the selection features plenty of different spice alternatives that are an easy way of adding taste and tinges of different cultures to your cooking.
Also Paulig coffee is popular in Estonia. Edwin himself likes to enjoy Paulig's Origin Blends Colombia coffee at the weekend, but during the week, his family drinks Paulig's Classic French Press.
"It's roasted to perfection."
Cheese and bread
Edwin is interested in fish dishes and Asian cuisine. In the latter, he is excited about the ease of cooking and a rich world of tastes with several spices.
And what food would Edwin take with him to a desert island?
"Dutch cheese and fresh bread."
Edwin Gielen
Occupation:

Senior Key Account Manager at Paulig

Career: Back in the day in the Netherlands, Edwin worked in a small bakery. While living in Estonia, he worked at Unilever for 19 years before Paulig. He has worked at Paulig for seven years.
Hobbies: volleyball, walking, cycling and playing board games with children.
Motto: "Enjoy life, company and food every day of your life."
Read also:
More spice, more colour!
Traditional recipes are in fashion
Immigration transforms the worlds of flavours
From Thai food to a taco revolution