34% of global greenhouse gas emissions are estimated to be caused by the food system. Sustainable production, food loss, fair trade and package recycling are topics that concern everyone - both producers and consumers. In Paulig Group, we have set ourselves the ambition to become a sustainable forerunner in the food industry. We strive towards this goal every day.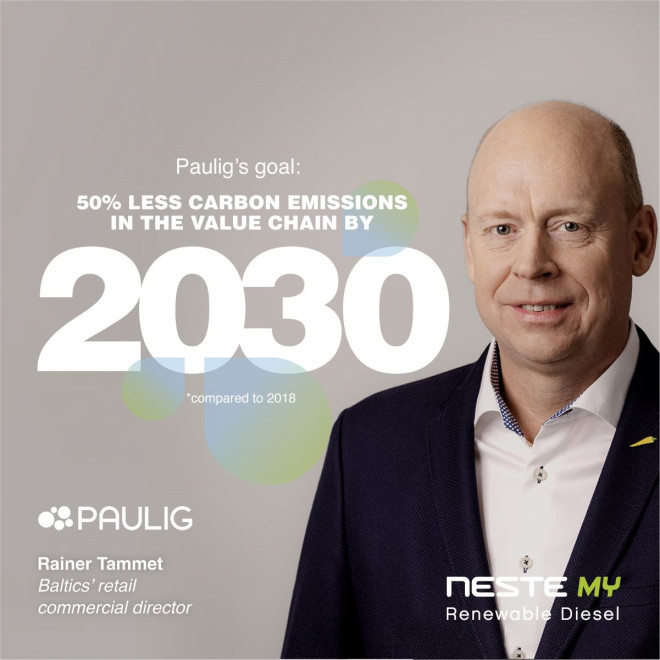 Since the Paris climate agreement, it has become evident that we can no longer continue the old way. The food industry also must go through a big change here. In Paulig, we want to be here at the forefront and guide consumers for more sustainable options, while never compromising in taste and ease.
To do our part as a responsible company, we have set ourselves the goal of reducing our carbon emissions in the value chain by 50% and in our own operations by 80% by 2030 compared to 2018. In each choice we make, we must take environmental aspects into account. In the value chain, the basis for success is cooperation. We are proud that 100% of Paulig's coffee already comes from verified sustainable sources. However, even as most climate impacts come from the very first stages of the supply chain, our own production and transportation are important components when it comes to sustainability. Our aim is to make all our factories carbon neutral and already seven out of eleven - have achieved carbon neutrality, including our coffee roasteries in Vuosaari and Tolkkinen, which produce coffee also for the Baltic markets.We also want to be more sustainable in our coffee transport both in Finland and in the Baltics. In cooperation with Neste and DSV and the usage of renewable, fossil-free diesel, we have been able to save in total 71,000 kg of CO2 emissions in one year in coffee transport in the Baltics.
However, Paulig's biggest product category is Tex Mex. In cooperation with our Swedish supplier Läntmännen, we can source the wheat for our tortillas with up to 30% smaller climate impact. At our Saue Santa Maria spice factory, we have made several changes towards sustainability, such as improving energy efficiency and waste recycling.  For instance, we have implemented for spices and mixes a storage bag recycling system where each storage bag has a label on it, how many times it has been used, and when the number of times is up, the bag goes out of use to ensure food safety. We have also started sorting and reusing transport packaging in production, have reduced our production waste, and sorting all generated waste. To reduce our energy costs, we have isolated different rooms that require a certain energy temperature or humidity and use 100% green electricity in our production. We are also planning to make our production in Saue carbon neutral in the near future.
As a food producing company, product packaging is not of insignificance. Our goal is to have all packages recyclable by 2025 and made from renewable or recycled materials by 2030. In the case of coffee packaging, some of our product assortments, such as city coffees and Mundo, are already made from almost 50% renewable plant-based raw materials, which have ca 45% lower carbon emissions compared to fossil-based plastic packaging. We also see the new packaging of our coconut drinks and cream to be a success story, which are now available in Tetra-packs and which emissions are 81% lower than those of previous metal cans. Step by step, we are also reviewing other product categories to reduce their climate impact.
Food loss is also a big issue in the food industry. Most food waste happens at the beginning of supply chain, due to poor weather and improper storage conditions. We are working closely with our suppliers to prevent this loss in the first place and are training thousands of farmers on sustainable farming. We look at the process as a whole and plan the demand together with our partners and clients, so that production and logistics are optimized to minimize food waste. We have a long-term cooperation with the Estonian Food Bank and also direct consumers to take a different look at their food in the refrigerator. Our Santa Maria product range with both Tex Mex and spices can give a different taste to any food.
If one asks what real results has been achieved with all these sustainability activities, then we have been able to reduce 16% of our carbon emissions compared to 2018 and continue to reduce it until 50% by the end of 2030. However, plenty of work lies ahead and we want to invite all our suppliers and customers with us to this journey to a more sustainable future for us all.