The Mundo coffees are some of Paulig's flagship products when it comes to sustainability. Now the Fair Trade and Organic certified product family has taken the next step by becoming completely carbon neutral. The flavors are the familiar Mundo Original and the new, double origin coffee Mundo Kolumbia & Honduras.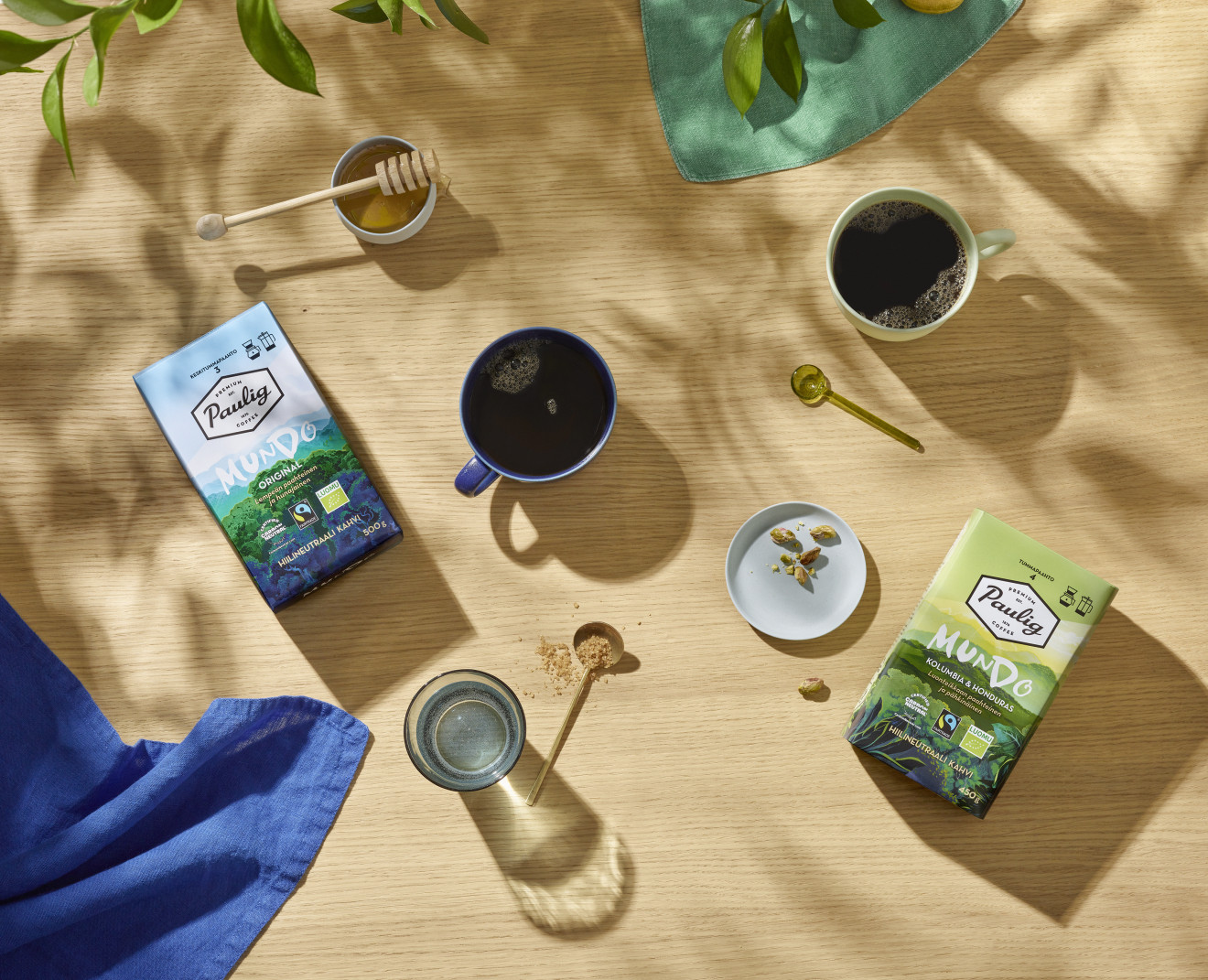 Consumers want to choose sustainable alternatives. Up to 93% of millennials say they would buy a product because of its responsibility or good purpose*. The carbon-neutral Paulig Mundo product family is good coffee for everyone and encourages climate-smart choices. 
The entire life cycle of the coffee is included in the calculations 
The emission calculations for Mundo coffees take into account climate impacts from cultivation to coffee making and packaging waste management. The total emissions of the carbon-neutral coffee are offset through Climate Impact Partners, specialist in carbon market solutions for climate action. The Paulig Mundo coffee line has achieved CarbonNeutral® product certification by supporting forest projects in the countries of origin of the coffee that have been verified according to international standards (Verified Carbon Standard and The Climate, Community and Biodiversity Standard), for example in Colombia and Brazil. 
Before compensation, the climate impacts of Mundo coffees have already been reduced, for example in transportation, roasting and packaging. The sea transport of Paulig's organic coffees is done using renewable fuels, and the coffee is roasted in carbon neutral certified roastery in Vuosaari, Finland. More than half of the materials in Mundo packaging are plant-based and renewable, and their emissions are up to 45% lower than traditional packaging materials containing fossil-based plastic. 
Carbon-neutral coffee is part of Paulig's wider climate program 
As a sustainable frontrunner, the international, family-owned Paulig was the first food company in Finland and among the first companies in the world to adopt the ambitious climate goals approved by the Science Based Targets initiative. These targets are in line with the Paris climate agreement, which aims to limit the increase in global temperature to 1.5 °C. Paulig's climate target is to reduce greenhouse gas emissions from its own operations by 80% and value chain emissions by 50% by 2030. 
Reaching the climate targets requires the systematic development of operations throughout Paulig's entire value chain. As part of its climate work, Paulig has started new climate projects in its coffees' countries of origin this summer, as the vast majority of coffee's climate impacts (70%) arise from the cultivation and processing of coffee. In addition, Paulig aims to reduce logistics-related emissions by 25% by 2025, including coffee transport and distribution. Paulig also invests heavily in packaging development, even though packaging only accounts for a few percent of coffee's environmental impact. In the spring of 2022, Paulig made a EUR 25 million investment decision to enable the introduction of recyclable coffee packaging and improve efficiency at the Vuosaari factory. 
Finnish consumers value Paulig's sustainability work and have chosen Paulig as Finland's most sustainable beverage brand for the third time in a row in the Sustainable Brand Index™ survey.                                                                                   
Details of the new products: 

Paulig Mundo Kolumbia&Honduras  
​​
A characterful coffee blend​ with roasted nutty notes from high-quality Colombian and Honduran  
Arabica beans. You can also find maple syrup -like sweetness in its taste. A dark roast coffee that goes especially well with oat milk. Pair it with delicious banana bread, which is the best recipe for fighting food waste. 
Roast level: 4 
Availability in stores in Finland from August–September: 450 g filter coffee, 450 g beans 
Certificates: Fair Trade, Organic, CarbonNeutral® 
Reduce emissions from coffee in your kitchen 
With coffee brewing, dishwashing and the recycling of packages included, the consumer's share of the total carbon footprint of coffee is nearly one third (29%)** Even though the calculations for Mundo coffee also cover the emissions from brewing coffee at home, you can take action against climate change through small everyday acts.  
Avoid waste: do not make more coffee than you are going to drink. Pour any leftover coffee into a thermos or freeze it into coffee ice cubes. Coffee can also be used in sauces, dips and baking. Additionally, coffee grounds can be recycled as fertiliser for flowers or an ingredient for an exfoliating face mask. 

Switch your home's electricity contract to one that supplies renewable energy and save electricity: Switch off your coffee maker once the coffee is ready. Don't let the coffee sit in the coffee maker.  

Recycle the empty package as plastic.  
 
* World Economic Forum's Engaging Tomorrow's consumer project 
** https://www.paulig.fi/yritys/mediatiedotteet/tutkimus-kahvin-ilmastovaikutuksesta-lahes-30-prosenttia-syntyy 
 
For further information, please contact: Pirjo Hästbacka, Communications Manager, Paulig  
tel. +358 50 356 8359