As the world is becoming more complex, so is the world of marketing. To Antti Lauronen, Paulig's newly appointed Director, Creative, Planning & Digital, this means that the way consumers are exposed to and relate to brands happens through a multitude of channels and different ways of experiencing. Because of this, brands will need multidisciplinary collaboration in order to succeed now and especially in the future.
"I am not a fan of talking about 'silos' and how every successful organisation should break them down. Obviously it's not ideal if different specialists struggle to collaborate. But on the other hand, specialisation and expertise are still very much needed, and it's important people know where their responsibilities lie. The bottleneck preventing successful multidisciplinary collaboration is usually just lack of a "birds-eye view" – a shared big picture of the joint ambition everyone is working towards. Paulig understands this and is striving to build a culture where smart, interdisciplinary collaboration between different teams and competencies is brought to a whole new level," Antti Lauronen summarises.
According to him, this applies to marketing as much as it does to organisations in general. Besides a shared big picture, he believes efficient communications are also needed – a shared language to talk about the common goal. 
"In the marketing context, this shared picture could be built around the strategic consumer path from awareness to conversion and retention, for example, including all the touch points where they experience and interact with the brand."
How to get diverse teams collaborate with each other is at the forefront of Antti Lauronen's mind right now, as he is taking the reins of group-level Creative, Planning and Digital responsibilities within Paulig's Marketing team.
Several other world-class talents with skillsets such as eCommerce are joining as his direct reports, forming a multidisciplinary unit working together with Paulig's in-country organisations and across all the different Paulig brands. A recent addition to the team is the new Head of Media and Performance who is joining Paulig from an executive position in a leading media house. Next in line is Head of Creative position to push Paulig's brands even further.
Keeping brands relevant also in the future
Antti Lauronen lived and worked in London's marketing scene for the past decade, including as a managing director at WPP's Mirum Agency UK and as a growth strategist for Proxy, a private venture capital and strategic branding company.
He says he feels very excited to start executing what he describes as Paulig's progressive approach.
For more than a century, Paulig has built amazingly strong brands – we have long-standing, loved brands that have an almost iconic position in their cultures of origin, such as Juhla Mokka, Presidentti and Santa Maria. In order to ensure these brands stay relevant for the next 145 years as well, Paulig is now set on becoming a modern marketing pioneer. Essentially this requires developing in-house capability that is diverse enough to ensure that there are no blind spots or missed opportunities.
eCommerce is relevant for shop-goers as well
One of the talents assembled in Antti Lauronen's team is William Löflund, Paulig's new Head of eCommerce. He gained his eCommerce experience working for Amazon in London and, prior to that, for Unilever in the Nordics.
His role is to create eCommerce competency by establishing and scaling best practices, discovering success stories and enhancing collaboration across all teams.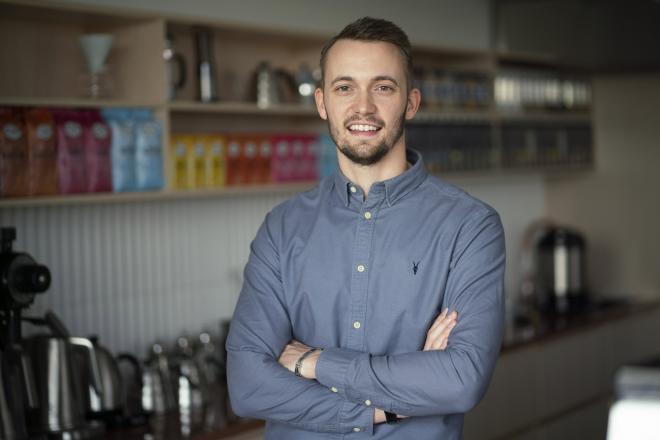 "Success in eCommerce requires multifunctional collaboration between marketing, commercial teams and supply chain," Löflund says.  
According to him, typical eCommerce customers are urban families with small children and little extra time to spend food shopping. The portion of people who buy their groceries online is still small but growing rapidly driven by COVID-19. Additionally the share of elderly people shopping online groceries has jumped from 10% to ca 25% since the outbreak (HS 12.10.2020, Kesko data.)
"However, even people who will eventually walk into a supermarket to make the purchase may read up on the product or check the price via eCommerce channels. This is why eCommerce needs to be considered as a part of any brand launch or brand marketing strategy," he summarises, precisely in line with Antti Lauronen's thinking about multidisciplinary collaboration.