Fostering social responsibility
For us, social responsibility means taking care of people's wellbeing both in-house and in the supply chain. We want to build an engaging work environment with a culture that strongly supports safety and wellbeing at work.
In our supply chain, human rights, decent working conditions and fair employment are emphasized. We enhance social responsibility through raw material purchases, supplier audits and by working in close co-operation with our suppliers to ensure that the ingredients in our products are produced responsibly.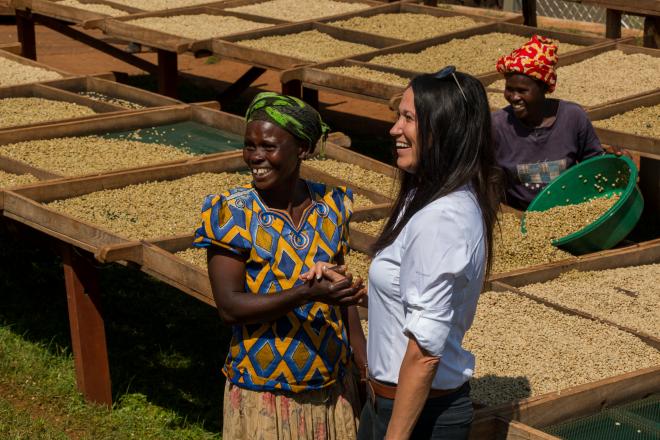 Wellbeing of employees goes beyond good business
We think that engaged employees are the most important factor when building a company's success. We support our employees in succeeding and growing together with the business in many ways.  Wellbeing starts from a healthy and safe workplace.
In everyday work, good leadership and opportunities to develop professional knowledge, skills and competence are important.
A regular employee target and development discussion concept is in use throughout the Group.
We also monitor the level of employee engagement by conducting yearly surveys.
Sustainable supply chain requires consistent work
Paulig Group's supply chain comprises raw material and traded goods suppliers and various service and logistics providers. In 2017, we had around 630 direct and 6300 indirect suppliers. A significant share of our raw materials comes from countries that are classified as risk countries by the BSCI (Business Social Compliance Initiative.) Problems related to human rights, employee rights and the environment are prevalent in these countries. Approximately 160 of our direct suppliers are classified as high-risk suppliers based on the country they operate in or the country of origin of the raw material.
* BSCI = Business Social Compliance Initiative
The Paulig Group Code of Conduct for Suppliers states our expectations and the basic requirements that we place on responsibility for people and the environment, and all our suppliers are required to commit to them.
Continuous evaluation of suppliers is an important part of our work on responsible sourcing to ensure that the expectations are met.
Monitoring takes place either in the form of self-assessments and/or through on-site audits at the supplier's site. If we find room for improvement, we agree on an action plan together with the supplier.
Certifications
In building a sustainable supply chain we also use different certification schemes like UTZ, Fair Trade and Organic. The palm oil used is certified by RSPO.